WATER SOFTENING/ CONDITIONING
Our water softener will work for you in ensuring that your entire house receives the benefits of soft, clean water. You'll be able to taste the freshness and feel the softness of a new shirt and say goodbye to that film around the tub.
Autotrol 268 / 762 Water Softener by SunAqua
The 268/762 computer/demand control system for 1" plumbing combines design simplicity with reinforced NORYL construction to provide you with an uncommonly reliable appliance. The inherent reliability for the system means a long life of efficient, trouble-free, uninterrupted soft water.
Should maintenance become necessary, the Series 268 offers a unique "separation" capability. Other components, such as the computer control, are modular, making it by far the most home-owner friendly valve on the market.
Fewer parts than other softener valves.

Single motor provides all the power to turn camshaft - no solenoids are needed!

Unique camshaft / flapper valve design - no dynamic seals (such as piston and seal or rotary discs) that could cause leakage through wear or fatigue.

Built-in brine control valve - no external brine float needed!

Digital Display - In service display will toggle between time of day and gallons remaining.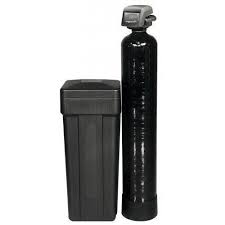 Valve may be indexed manually without power in the event of an extended power outage.

True 1" internal porting - many competitors use restrictive 1/2" internal ports!

Energy-efficient - uses only about $2.00 of electricity per year!

This is a 1.5 Cu/ft System 
Spring Special $1750.00 Installed 
NOVOSOFT 485HE SERIES WATER SOFTENER
Novo's premier high-efficiency softener sets the new standard for high performance.
FEATURES 
Reverse Flow regeneration preserves unused portion of softening bed from unnecessary exchange saving salt
 Precision Brining calculates the exact amount of brine required to regenerate saving up to 30% more salt
 Automatic Backwash Frequency Preset for clean municipal water saves water by matching back wash to water quality need
 Soft Water Brine Tank Refill keeps tank & injectors clean 0 Automatic System Refresh flushes stagnant water after 7 days of non-use preventing bacteria growth
 Soft Water Recharge Mode ensures soft water during unusually heavy water usage
 Compact two-piece cabinet or traditional twin tank
 Condensation tank jacket (8", 9" & 10" twin tank models) 0 NSF Certified fibreglass pressure tank
 WQA Gold Seal Certified cation resin 0 WQA Tested & Certified against CSA B483.1
 User-friendly backlit LCD display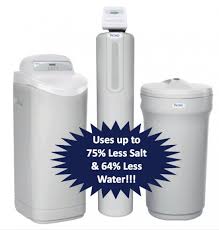 "No Touch" information display rotates key info like last regeneration date and volume remaining
Unique bypass with integrated turbine meter saves space, eliminates connections and is more durable
 Time saving quick connect fittings on bypass, drain & brine line. Power cord even has quick connect for easier installations.
 Brine safety valve for added overflow protection
 Plastic salt grid prevents bridging (twin tank only)
 48 hour self charging battery back-up
 Includes hose clamp and 10' of drain tubing
$2150.00 Installed