Solar + Wind Powered Systems 
Systems come complete with solar panels on adjustable mast, deep cycle batteries in swing out box(s), charge controller mounted in controller box on mast, float switch, pump, wire, hose, & safety panel.
The Wind Turbine is 'big brother' to Solar. Wind Turbines can generate power 24hrs/day. Our towers are easily raised & lowered for transport. Recommended for winter watering & when watering larger herds. 12 volt Systems have single swing out battery box, 24 volt Systems have double swing battery boxes.
Systems come complete with solar panels and wind turbine on adjustable mast, deep cycle batteries in swing out box(s), charge controller mounted in controller box on mast, float switch, pump, wire, hose, & safety panel. Wind turbine with fold down tower.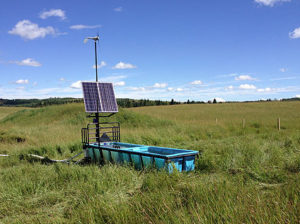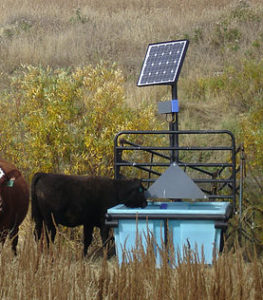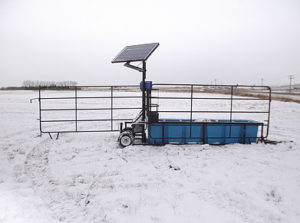 All Season Watering Systems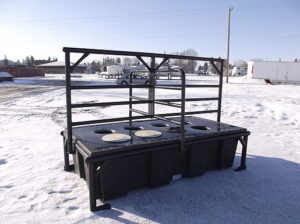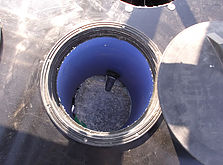 8' Insulated Trough with a 255 gal Insert Tank surrounded by 4" rigid insulation on all 4 sides. Troughs available with 2 up to 8 Tapered Drink Tubes. Allow 50 head per 13" drink tube. Plug off unneeded holes in extreme cold. Available in Skidable, Stationary, or Bolt Down Frames. Shown with optional 4 way Divider Panel & Bolt Down Frame. Designed for pressurized lines or solar set-up.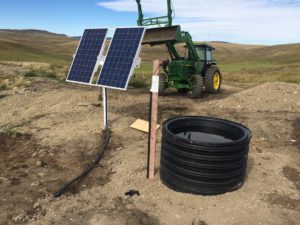 12V OR 24V DC OR AC  MOTION ACTIVATED YEAR ROUND WATERING TROUGH
4 foot diameter water trough that holds 150 gallons, allowing multiple livestock access at the same time 1-500 animals in the winter without frost issues
 Utilizing a motion eye to initiate the pump and incorporating a float system to control unnecessary continuous pumping. Greatly increasing life expectancy of the pump and batteries 
Incorporating a system that allows the intake line from the dugout to the wet well to be cleaned of sediment so that you never have to worry about it plugging off and your wet well going dry
And because it is the best one out there.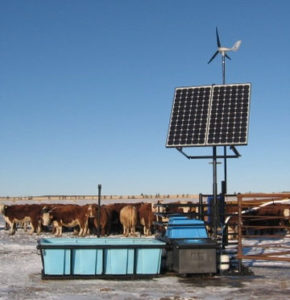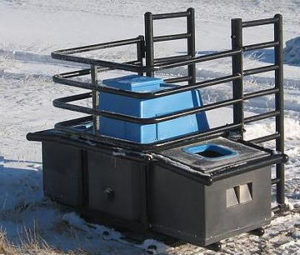 A Year-Round Watering System adaptable to most watering sources. Units come with protective steel frame & bale deck adapters. Optional hitch & axle available for off-road towing.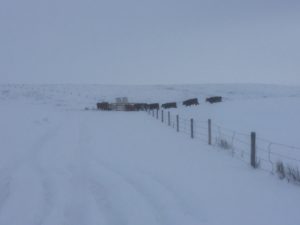 This system incorporates geothermal heat, gravity and solar. After the livestock have finished drinking and walked out of the motion sensors detection area the livestock water is designed to completely drain all of the remaining water back to the wet well located directly below the trough and below the frost line. The duration of time for the water to drain back is adjustable to accommodate every potential ambient temperature. this design allows for trouble free winter use. In the summer  the drain back can be stopped and the livestock water can be operated like a regular water.
Stationary Troughs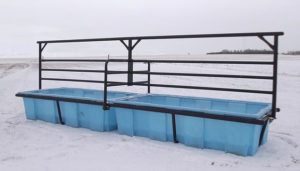 Stationary Pasture Trough with guard frame when not moving from pasture to pasture.
8',16',24' & 32' long x 4' wide x 26" high.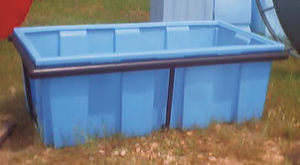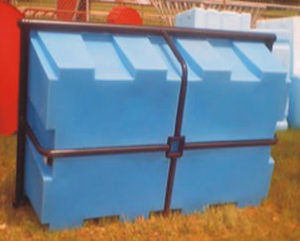 Skid-able Troughs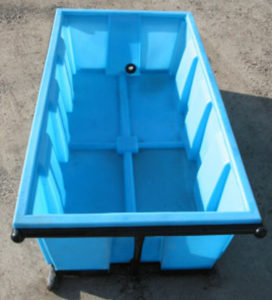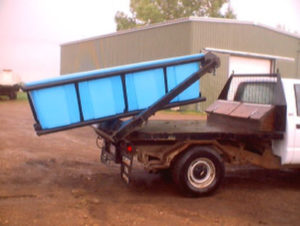 Our trough bottom is molded to fit over 2" pipe, reinforcing the trough & allowing for footing when needed without damaging trough. Pipe under trough lip ensures it will stand up to pushing without damaging. Our troughs give superior access.
Skidable Troughs have bale deck adapters & tow bars at both ends of frame. Solar Troughs have bale deck adapters at 1 end.

For smaller herds, 100 imp gal, 5' x 2' x 2'